Providing young career-minded individuals with opportunities to develop socially, professionally, and civically.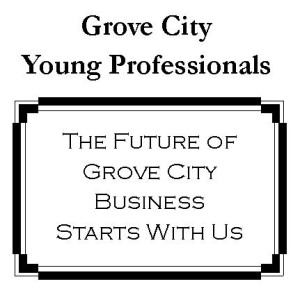 Who We Are
Grove City Young Professionals (GCYP), a not-for-profit all volunteer organization, is dedicated to building a better networking society for the career-oriented individuals of Grove City. We are made up of motivated, young professionals certain to become the community's future leaders.  GCYP encourages members to get involved and make a difference by becoming active participants in the professional, civic and social aspects of their town.  The Grove City Young Professionals are motivated to make a difference in Grove City while serving our community to the best of our ability.
GCYP offers its members a way to link their personal passions with professional ambitions.  The group is aligned with the Grove City Area Chamber of Commerce.  GCYP gives the young professional an opportunity to be involved with a civic and social organization that drives positive and real change in Grove City, while giving young professionals a chance to make a significant impact in the community.
Social Activities
The Grove City Young Professionals plan group social activities to build camaraderie amongst members and promote relationship building.  Social activities are planned based on the interests of members.  Join us and help us plan activities you enjoy!
Relationship Building
When relationships are built, people feel comfortable and encouraged to reinforce those relationships.  Grove City Young Professionals reinforce their relationships by doing business with each other and encouraging the use of local business.
Personal and Professional Development
As an affiliate of the Grove City Area Chamber of Commerce, the Grove City Young Professionals are invited to participate in educational and networking opportunities offered to Chamber members.  Opportunities are offered periodically throughout the year to encourage personal and professional growth of Chamber members at affordable prices within our local community.
Officers for 2014
President—Mike Johnson, Davevic Benefit Consultants, Inc.
Vice President—Alex DeGroff, Earth Sun Moon 
Secretary—Ryan Thomas, Guthrie Theatre
Treasurer—Mitch McFeely, PNC Bank
Immediate Past President—Dave Knopp, Jr, County Market
Executive Director—Beth Black, Grove City Area Chamber of Commerce
Committees
Social Committee
Chair—Chris Baer
The Social Committee plans and organizes the events that GCYP will host or participate in.  Examples of these activities are mixers.
Membership/Marketing Committee
Chair—Mike Krupa
The Membership/Marketing Committee strategizes on ways to reach new GCYP members.  This committee also focuses on effective ways to market the group.
Philanthropy Committee
Chairs—Brian Ralph, Mitch McFeely
The Philanthropy Committee looks at ways to get GCYP involved in the community.  Examples include food drives for the food pantry, toy drives for needy children, and fundraising for the Food for Kids Backpack Program in Grove City Schools.
We know you're probably on Facebook.  So are we!