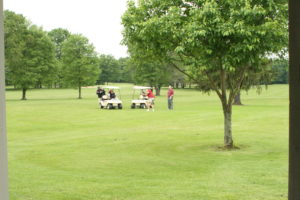 The average golfer enjoys any moment they can spend out on the golf course.  They enjoy taking in the beauty of the freshly cut grass and well manicured greens.  They enjoy the quiet the course can offer and even the occasional bird chirping is a welcomed sound over the fast paced day the office can bring.  Most golfers get out after work or on weekends. Any moment on the golf course is time to unwind, even if the game isn't going well.
Each year, in early June, the Grove City Chamber offers their Annual Golf Scramble.  This event is held at Pine Grove Golf Course, this year on June 8th, and features lunch at 11 AM and golf starting at noon.  At only $320 per foursome, this event is a bargain that offers lunch, golf, prizes, drinks and dinner.  However, the most valuable part of the scramble is more than just golfing, it is networking.  The chance to be out of the office playing golf is always a welcomed idea.  But a golf scramble for a local organization can get the green light for any business person to be out of the office and playing golf during the work day.  Being part of a foursome at a golf scramble allows the players plenty of time over 18 holes to talk.  Often, they end up talking with other foursomes before, during or after golf.  This networking can lead to new relationships that benefit the business person.  New leads can be generated, new contacts and even new business ventures have all been hatched on the greens of a golf course.
Don't you want to be part of such a wonderful day?  Get out of the office and play golf, you will not only be supporting our local Chamber of Commerce, you will also be meeting a potential new client!  Contact our office today to reserve your team spot in this wonderful event that is not just about golf!