A solid education is the cornerstone of every individual. In Grove City, we take an interest in every student, preparing them for life after graduation.

Grove City Area School District
Nestled in western Pennsylvania between Pittsburgh and Erie, and easily accessible from route 80 and route 79, Grove City Area School District encompasses the borough of Grove City and the surrounding townships of Liberty, Pine, Springfield, and Wolf Creek. The District covers 86.8 square miles, and serves a local population of approximately 17,700 residents. The District operates five schools, K – 12, and offers opportunities for Career and Technical Education through Mercer County Career Center.
Mission Statement:
Our mission is to equip all our students for successful futures. We've designed our programs so that students can attain the knowledge and skills that are necessary for them to pursue their dreams. After receiving a rigorous core program that focuses on reading, mathematics, writing, science and technology in the elementary and middle schools, our high school freshman study about career education and work. Through this in depth study, students begin to crystallize their dreams for their futures and to select the courses they will need to turn their dreams into reality. Our primary goal is to equip them to succeed in their futures.
Learn more about Grove City Area Schools on their website: http://www.grovecity.k12.pa.us/grovecity/site/default.asp
Grove City Christian Academy
Mission Statement:
Grove City Christian Academy seeks to instruct children, pre-school – 8th grade, concerning the sovereign Lord of creation, the purpose He has for them, and the nature of the creation over which He has placed man. We strive to equip and assist children to faithfully and obediently carry out man's God-given task in Genesis 1:28: "God blessed them and said to them, 'Be fruitful and increase in number; fill the earth and subdue it. Rule over the fish of the sea and the birds of the air and over every living creature that moves on the ground.'"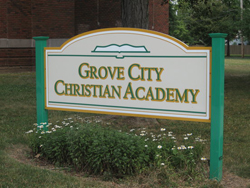 We want their convictions and beliefs regarding the whole of life to be rooted in the Bible. While striving for academic excellence in every discipline, GCCA emphasizes a structured integration of our Christian world and life view in all of our studies. We seek to reinforce the moral values and Christian faith that our students are taught in the home and church.
Learn more about Grove City Christian Academy on their website: http://www.grovecitychristianacademy.com